Summer is ahead of us and it always comes with the most delicious candies. Lovers of Ki-Ki Gumioza have good reason for joy – new cheerful and fruity varieties have arrived that will blow their mind!
Our juicy, fruity and natural Ki-Ki Gumioze range is extended to include two new varieties – soft and juicy jelly candies in fruity flavours and a very interesting combo of two different candies, bringing out the third recognisable cola flavour that appeals to young and old alike. New, playful clowns with a window in the shape of a bright smile invite you to have fun with our delicious Gumioze.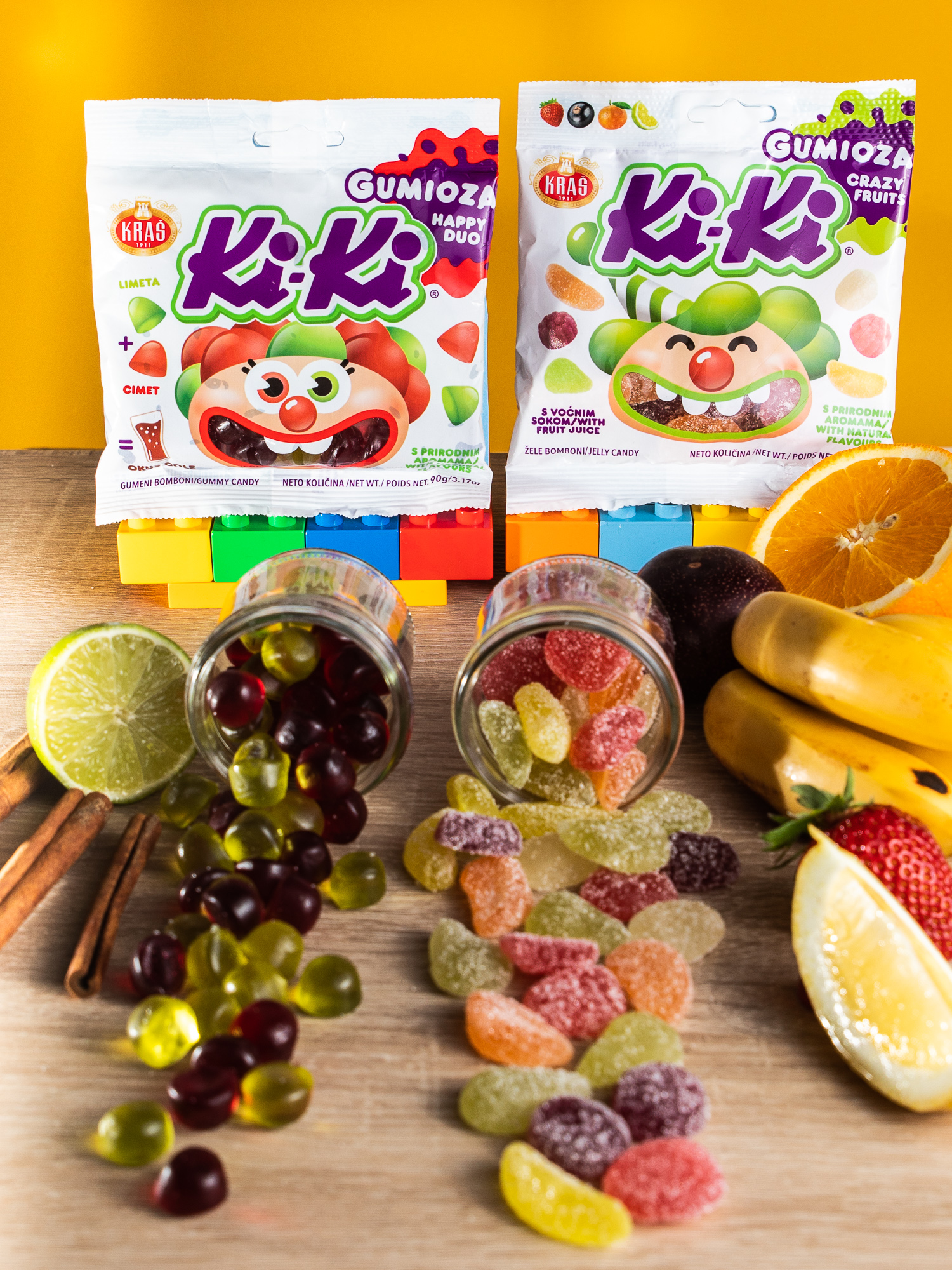 Ki-Ki Gumioza Happy Duo 90g
Gummy candies in the shape of red and green caps but in two different delicious flavours (lime and cinnamon) release a recognisable and refreshing cola flavour when consumed together. They can also be consumed separately – a fine lime or a tasty cinnamon – but if anyone wants an additional flavour, here is the third all-time favourite flavour of cola too.
Ki-Ki Gumioza Crazy Fruits 90g
Another addition to Ki-Ki Gumioza range are soft, juicy and fruity jelly candies. Their interesting sour-to-sweet taste make these panned jellies in fruit shape appealing to all. Panned with sour sugar, the colourful jellies come in a bag that hides delectable flavours of apple, mandarin, blueberry, banana, strawberry and lime. At first sour and then deliciously sweet and fruity, they give impression of a true "crazy fruit".
These new varieties of our Gumioza range with a new and stylish packaging design will make our Ki-Ki candies more recognisable and attractive, and we dare you to try to have just one!