There are proofs that chocolate lifts the spirits and creates a feeling of happiness, and even more so when there is a perfect trinity – a harmonious combination of three chocolate varieties – the chocotherapeutic success is guaranteed!  
New additions to the Dorina Chocotherapy range are two chocolate bars: Choco Mix and Caramel Mix.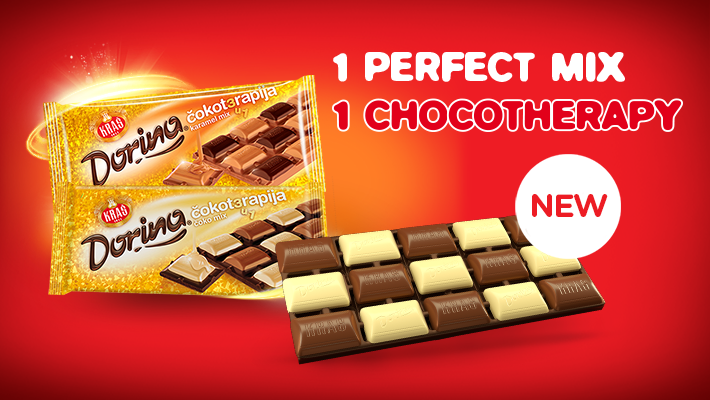 Dorina Chocotherapy 3 in 1 – Caramel Mix has a bottom made of melt-in-your-mouth milk chocolate with hazelnut paste added and squares of dark and white chocolate with caramel.
Dorina Chocotherapy 3 in 1 – Choco Mix has a bottom of dark chocolate with a higher cocoa content and squares of white and milk chocolate alternating on the top.
Here is a new TV ad with sophisticated shots of chocolate and its ingredients. Additionally, you will feel chocotherapeutic effects of new Dorina chocolates via billboards, radio and online.
Enjoy the new flavours of Dorina chocolate and indulge in the perfect mix of three chocolate varieties!