A family home is inconceivable without Domaćica, a crunchy tea biscuit covered with Kraš dark chocolate. Generations of loyal consumers made it possible for Domaćica to celebrate this year its big 60th anniversary.
To mark the occasion, Domaćica has been launched in a special edition retro packaging to take us back to the far-off year of 1957 when Domaćica brand "was born", although the first mention of its recipe dates all the way back to 1920s.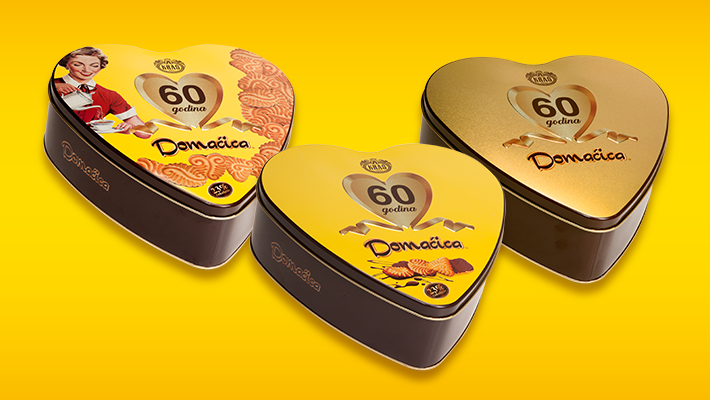 Its high quality and distinctiveness have made Domaćica popular with all age groups, allowing it to remain trendy for decades. As one of the Kraš' flagship brands and real assets to the image of the company, Domaćica has over the years offered a wide selection of flavour varieties that made an instant success.
In addition to a long-established Domaćica Original, another five different flavours have hit the shelves since 2010: Domaćica with White Chocolate, Domaćica Integral, Domaćica with Dark Chocolate, Domaćica with Dorina Milk Chocolate, and Domaćica Coconut that has become widely popular among consumers.
In the marketing research conducted by Valicon in 2016, measuring brand strength in the region, Domaćica was in high eighth place in Croatia. This was not only due to its perfect taste and continuous efforts to develop new flavours but also to marketing activities such as a campaign featuring a popular footballer Ivan Rakitić, that has recently won us the prestigious EFFE award for effective advertising.
In 2017, Kraš has continued interesting marketing activities, with sweet surprises and loyalty rewards in store for loyal fans of Domaćica. The celebratory retro packaging has marked the start of a series of exciting news to remind us of the delight we take in this ultimate combination of the biscuit and the finest dark chocolate.